Art House details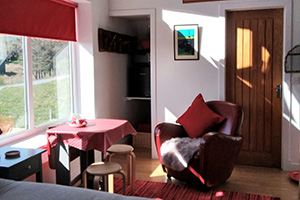 Both rooms are upstairs and are furnished with king size beds.
All rooms have access to a guest lounge on the upper floor, with views of the loch, comfy chairs, desk, books and board games.
The Blue room is the largest of the 2 rooms and looks east from the balcony, towards the mainland hills. It has an ensuite bathroom with bath and shower.
The Red Room faces west to the Isle of Rum. It has an ensuite shower room.
Food
We would love to give you breakfast seated around the kitchen table in the Art House tradition, but due to the changes in our lives made by Covid 19 we will give you all you need to have a tasty and satisfying breakfast in your room.
Each room has a fridge, microwave and toaster. In your fridge you will find homemade bread, marmalade, jam, butter, yogurt, fruit and milk. Granola, muesli and microwave porridge are also included in your breakfast menu. Let us know before your stay, if you like scrambled egg! We can leave our own free range eggs, ready for you to microwave, as well.
There is a sink for washing up your dishes in the downstairs entrance hall. We will leave a washing up bowl, washing up liquid,dishcloth,scourer and dish towel in your room, ready for you to use in the sink. This will ensure, only you will have the use of these items during your stay. Please let us know if you have any special dietary requirements before your stay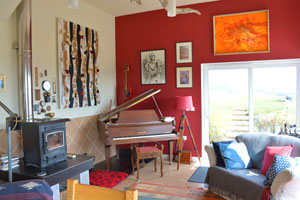 PRICES FOR 2022
Blue Room £115 per night including breakfast
Red Room £110 per night including breakfast
Art House Vintage self catering £110 per night
Please click here for reviews of the Art House on AirBnB.
The road to Heaste village from Broadford.